Configurable 
Products
Build one of our available configurable products & get a quote.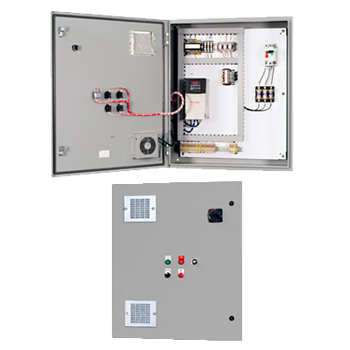 PanelShop.com offers configurable AC Drives and AC Drive Panels for versatile applications such as pumps, fans, conveying systems, textiles, and machine construction among others.
Details
AC Drive packages for Constant Torque applications are available from 1 to 75 HP at 240V and from 1 to 300 HP at 480V.
AC Drive packages for Variable Torque applications are available from 1 to 100 HP at 240V and from 1 to 400 HP at 480V.
Manufacturers Available for Configuration:

AC Variable Frequency Drive (VFD) packages are available from an extensive network of leading electrical control manufacturers including ABB, Allen Bradley, Lenze-AC Tech, TECO Westinghouse, and Siemens to ensure your preferred manufacturer's products are available for configuration.
Configurator Options
The PanelShop.com AC Drive configurator enables you to design your own drive package by selecting various components to fit your application. The configurator takes you through a series of questions regarding your motor and application to assist with the configuration. For example, you can configure a basic enclosed drive system and add features such as input line reactors, output load reactors, pulse braking and bypass, and more.The AC Drive configurator also offers many additional options including:
Enclosure Type (NEMA 1, NEMA 12)
Mounted Keypads
Pilot Devices
Disconnect Options
Manual Devices
Communication Options
Once you have completed the design of your AC Drive panel, the PanelShop.com configurator displays your configuration along with a quotation, unique configured part number, and drawings.