Configurable 
Products
Build one of our available configurable products & get a quote.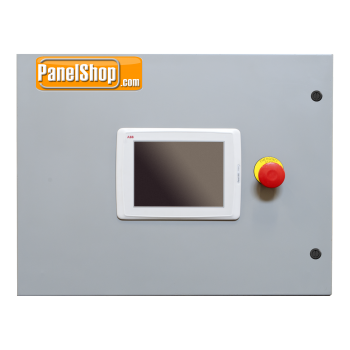 PanelShop.com offers configurable HMI Panels to provide superior operator control for an automated system.
HMI (Human Machine Interface) Panels are available from an extensive network of leading electrical control manufacturers including Allen Bradley, Automation Direct, and Siemens. With a large variety of communication options from these top manufacturers, the HMI Panel is sure to be compatible with your system.
Manufacturers Available for Configuration:

Screens range in size from 3"-15" and are available in color or monotone, allowing you to control how basic or high feature your screen will be. They are also available with keypad, touchscreen, or both keypad and touchscreen operation to suit your needs.
With extensive graphic libraries, HMI Panels are a great way to control and monitor your system. Additional features include password protection to safely control who can operate/access the system.
The panels have a rugged design with a NEMA 4X indoor rating to endure even the harshest plant environments.
Panels are offered in a wall mount or a slope top style enclosure with an optional pedestal stand to easily and conveniently fit next to any machine. With possible portrait or landscape orientation for HMI mounting, the panel can be placed in the perfect location.
HMI Panels come with an optional emergency stop push button to provide an easy access shutdown to the system. The panels also come with an optional power supply to deliver the required 24VDC directly to the HMI.
Once you have completed the design of your HMI Panel, the PanelShop.com configurator displays your configuration along with a quotation, unique configured part number, and drawings.