Configurable 
Products
Build one of our available configurable products & get a quote.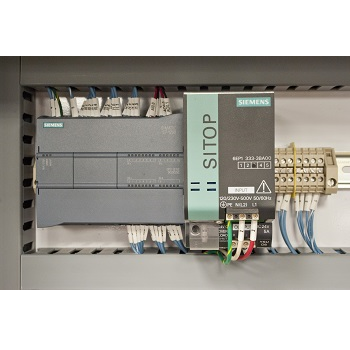 Panelshop.com offers configurable Programmable Logic Controller (PLC) panels that provide flexible, reliable, and affordable automation control for any industrial, manufacturing, or production process application.
Programmable Logic Controllers are available from an extensive network of leading electrical control manufacturers including Allen Bradley, Automation Direct, and Siemens to ensure your preferred manufacturer's products are available for configuration.
Manufacturers Available for Configuration:
Configurator Options
The PanelShop.com PLC Panel configurator enables you to design your own controller package by selecting various components to be as large and sophisticated, or as small and simple as you need. All devices will be mounted in a NEMA rated enclosure and wired to terminal blocks for quick and easy field installation, and require a 120VAC connection.
Enclosure Type The PLC Panel configurator also offers many options including:
Communication Options
Digital or Analog I/O
Temperature Measurement
Industrial LAN Router
EtherNet Switch
Programming Receptacle
Fan and Filter Package
Once you have completed the design of your PLC Panel, the PanelShop.com configurator displays your configuration along with a quotation, unique configured part number, drawings, manuals, and environmental parameters.